Is it my turn yet?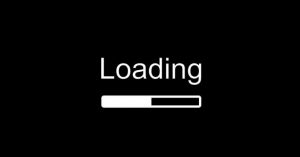 It is no secret that we are (extremely) frustrated with long waiting times. Consecutive governments repeatedly promise to fix this problem but wait times only seem to grow longer.
As noted by the Fraser Institute: "excessively long wait times remain a defining characteristic of Canada's health-care system, but this year (2016) is the longest we've ever seen and that should trouble all Canadians." Bacchus Barua, senior economist at the Institute, continues, "long wait times aren't simply minor inconveniences, they can result in increased suffering for patients, lost productivity at work, a decreased quality of life, and in the worst cases, disability or death."
http://globalnews.ca/news/3083826/medical-wait-times-in-canada-are-longer-than-ever-hitting-20-weeks-in-2016-fraser-institute/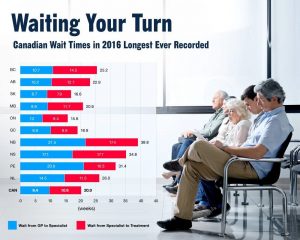 The Canadian Institute of Health Information (CIHI) released a report based on The Commonwealth Fund's 2016 international survey that highlighted this continued issue. According to the survey, Canada scored the poorest of all 11 countries surveyed when it came to access to specialists.  Fifty-six percent of Canadians wait longer than a month to see a specialist—as compared to the international average of 36 percent.
Dr. Josh Tepper, CEO of Health Quality Ontario, along with Vanessa Milne and Sachin Pendharkar, published "Four ways Canada can shorten wait times for specialists" at Healthydebate.ca.  Their prescription for success focuses on simple, achievable concepts:
1.Do virtual consults, not visits
Not every patient needs to see a specialist.  Often the family physician needs some guidance and a virtual consult system can help.
The Rapid Access to Consultative Expertise (RACE) is a phone based system available in parts of British Columbia. Family physicians call a central phone number during business hours on weekdays, and a specialist calls back within a couple of hours.
The success of RACE in B.C. inspired a similar program in Ontario, called The Champlain BASE e-Consult service. In this system, primary care providers complete a form that includes patient information and the medical question. Test results and images can be attached. The information is then sent to a specialist.
From 2010 to 2015, the BASE service was used in over 10,000 consultations in the Champlain region. The average wait time for a response from the specialist was two days.  Most impressively, in 40% of cases the patient did not need to see the specialist.
2.Add physician directories and e-referrals
Alberta currently offers paperless referrals through e-Referrals. The system includes referrals to Oncologists and Orthopedics.  Family doctors get an idea of wait times BEFORE submitting the referral and can chose a specific specialist.
3.Try pre-assessment in specialized clinics
Another approach is adding an assessment step in between the referral and the specialist.  This method has been successfully introduced for patients with severe low back pain (Interprofessional Spine Assessment and Education Clinics (ISAEC)).
Known as CareAxis in B.C., Saskatchewan, Ontario and Quebec, wait times are reduced by training physiotherapists to triage potential surgical candidates.
4.Switch to central intake
Pooled referral systems (aka central intakes) allow family doctors to select a specific specialist or the first-available.  Newfoundland, Ontario, Saskatchewan and Calgary all use this model.  Quebec's model, CRDS, launched in the Fall of 2016, offers central intake for 9 specialties: Cardiology, ENT, Gastroenterology, General Pediatrics, Nephrology, Neurology, Ophthalmology, Orthopedics, and Urology.
Information can be found at:
Tél. : 514-762-CRDS (2737)
Téléc.: 514-732-5121
Courriel: crdsmontreal.ccsmtl@ssss.gouv.qc.ca
https://www.santemontreal.qc.ca/professionnels/medecins/crds-centre-de-repartition-des-demandes-de-services-montrealais/
So…can wait times be fixed?
All four models can help reduce wait times and simplify the process.  However, the authors caution, "Canada is notorious for being a land of pilot projects in health care, where good ideas aren't scaled well. For systems like this, where getting buy-in from many professionals is crucial, that problem is especially important to overcome."