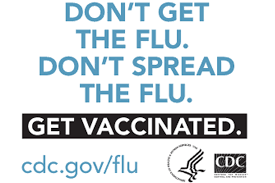 New Flu Information for 2017-2018 from cdc.gov/flu
Getting an annual flu vaccine is the first and best way to protect yourself and your family from the flu. Flu vaccination can reduce flu illnesses, doctors' visits, and missed work and school due to flu, as well as prevent flu-related hospitalizations.
What's new this flu season?
A few things are new this season:
The recommendation to

not

use the nasal spray flu vaccine (LAIV) was renewed for the 2017-2018 season. Only injectable flu shots are recommended for use again this season.

Flu vaccines have been updated to better match circulating viruses (the influenza A(H1N1) component was updated).

Pregnant women may receive the flu vaccine
What flu vaccines are recommended this season?
This season, only injectable flu vaccines (flu shots) are recommended. Some flu shots protect against three flu viruses and some protect against four flu viruses.
Live attenuated influenza vaccine (LAIV) – or the nasal spray vaccine – is not recommended for use during the 2017-2018 season because of concerns about its effectiveness.
What viruses will the 2017-2018 flu vaccines protect against?
There are many different flu viruses and they are constantly changing. The composition of flu vaccines is reviewed annually and updated as needed to match circulating flu viruses. Flu vaccines protect against the three or four viruses (depending on vaccine) that research suggests will be most common. For 2017-2018, three-component vaccines are recommended to contain:
an A/Michigan/45/2015 (H1N1)pdm09-like virus (updated)

an A/Hong Kong/4801/2014 (H3N2)-like virus

a B/Brisbane/60/2008-like (B/Victoria lineage) virus
Quadrivalent (four-component) vaccines, which protect against a second lineage of B viruses, are recommended to be produced using the same viruses recommended for the trivalent vaccines, as well as a B/Phuket/3073/2013-like (B/Yamagata lineage) virus.
When should I get vaccinated?
You should get a flu vaccine before flu begins spreading in your community. It takes about two weeks after vaccination for antibodies to develop in the body that protect against flu, so make plans to get vaccinated early in fall, before flu season begins. CDC recommends that people get a flu vaccine by the end of October, if possible. Getting vaccinated later, however, can still be beneficial and vaccination should continue to be offered throughout the flu season, even into January or later.
Children who need two doses of vaccine to be protected should start the vaccination process sooner, because the two doses must be given at least four weeks apart.
Can I get a flu vaccine if I am allergic to eggs?
The recommendations for people with egg allergies are the same as last season.
People who have experienced only hives after exposure to egg can get any licensed flu vaccine that is otherwise appropriate for their age and health.

People who have symptoms other than hives after exposure to eggs, such as swelling, respiratory distress, or vomiting; or who have needed epinephrine or another emergency medical intervention, also can get any licensed flu vaccine that is otherwise appropriate for their age and health, but the vaccine should be given in a medical setting and be supervised by a health care provider.
Protective Actions
What should I do to protect myself from flu this season?
CDC recommends a yearly flu vaccine for everyone 6 months of age and older as the first and most important step in protecting against this serious disease.
In addition to getting a seasonal flu vaccine, you can take everyday preventive actions like staying away from sick people and washing your hands to reduce the spread of germs. If you are sick with flu, stay home from work or school to prevent spreading flu to others. In addition, there are prescription medications called antiviral drugs that can be used to treat influenza illness.
What should I do to protect my loved ones from flu this season?
Encourage your loved ones to get vaccinated.
Do some children require two doses of flu vaccine?
Yes. Some children 6 months through 8 years of age will require two doses of flu vaccine for adequate protection from flu. Children in this age group who are getting vaccinated for the first time will need two doses of flu vaccine, spaced at least 28 days apart. Children who have only received one dose in their lifetime also need two doses.
What can I do to protect children who are too young to get vaccinated?
Children younger than 6 months old are at high risk of serious flu complications, but are too young to get a flu vaccine. Because of this, safeguarding them from flu is especially important. If you live with or care for an infant younger than 6 months old, you should get a flu vaccine to help protect them from flu.
How effective will flu vaccines be this season?
Influenza vaccine effectiveness (VE) can vary from year to year among different age and risk groups and even by vaccine type. How well the vaccine works can depend in part on the match between the vaccine virus used to produce the vaccine and the circulating viruses that season. It's not possible to predict what viruses will be most predominant during the upcoming season.
Will this season's flu vaccine be a good match for circulating viruses?
It's not possible to predict with certainty if the flu vaccine will be a good match for circulating flu viruses. The flu vaccine is made to protect against the flu viruses that research and surveillance indicate will likely be most common during the season. However, experts must pick which flu viruses to include in the flu vaccine many months in advance in order for flu vaccines to be produced and delivered on time. Also flu viruses change constantly (called drift) – they can change from one season to the next or they can even change within the course of one flu season.
How long does a flu vaccine protect me from getting the flu?
Multiple studies conducted over different seasons and across flu vaccine types and influenza virus subtypes have shown that the body's immunity to influenza viruses (acquired either through natural infection or vaccination) declines over time.
Can the flu vaccine provide protection even if the flu vaccine is not a "good" match?
Yes, antibodies made in response to vaccination with one flu virus can sometimes provide protection against different but related flu viruses. A less than ideal match may result in reduced vaccine effectiveness against the flu virus that is different from what is in the flu vaccine, but it can still provide some protection against flu illness.
In addition, it's important to remember that the flu vaccine contains three or four flu viruses (depending on the type of vaccine you receive) so that even when there is a less than ideal match or lower effectiveness against one virus, the flu vaccine may protect against the other flu viruses.
Can I get vaccinated and still get the flu?
Yes. It's possible to get sick with the flu even if you have been vaccinated (although you won't know for sure unless you get a flu test). This is possible for the following reasons:
You may be exposed to a flu virus shortly before getting vaccinated or during the period that it takes the body to gain protection after getting vaccinated. This exposure may result in you becoming ill with flu before the vaccine begins to protect you.

You may be exposed to a flu virus that is not included in the seasonal flu vaccine.